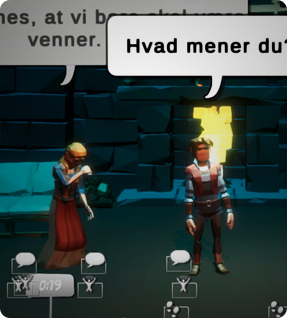 Fill in the blanks
2-3 lektioner
Fill in the blanks er en hurtig måde at komme i gang med Drama Studio, og få nogle gode
dialoger om teater, kommunikation og virkemidler.
Fill in the blanks går ud på at du har et færdiglavet teaterstykke hvor der mangler dele af
opsætningen. F.eks. en scene fra Jeppe på bjerget hvor alle Jeppes replikker mangler. Alt efter
hvad du gerne vil have dine elever til at forholde sig til kan du vælge mellem stykker hvor der
mangler: manuskript, instruktion eller scenografi og lyssætning.

Forberedelse:
Hvis du ikke allerede er nogenlunde fortrolig med Drama Studio bør du som lærer sætte 1⁄2
time af til at lave de første tutorials i spillet, så du har en grundlæggende forståelse for
hvordan Drama Studio fungerer.
Find den Fill in the blank opgave du vil bruge i Drama Studio. Hvis du har tid, så lav selv
opgaven inden afvikling. Alle elever skal have adgang til Drama Studio.

Afvikling (1-2 lektioner):
Eleverne udfylder efter bedste evne det der mangler.

Refleksion (1 lektion):
I plenum vises den oprindelige scene i Drama Studio på klassens projektor.
Efterfølgende vises udvalgte elevproduktioner.
Efter hver elevproduktion diskuterer eleverne i grupper (max 5 minutter) hvordan produktionen
adskilte sig fra originalen. Hvordan det påvirkede scenen. Hvorfor eleven mon har taget netop
de valg, og hvilke kommunikative virkemidler de er blevet opmærksomme på af at observere
forskellen i de 2 opsætninger.
Grupperne præsenterer på skift hvad de har snakket sig frem til og der åbnes for klassedialog
om spørgsmålene.
Next level:
Hvis niveauet skal være højere kan du bede eleverne om at forsøge at give det oprindelige
stykke ny karakter og stil. F.eks. gys, komedie, socialrealisme eller andet.