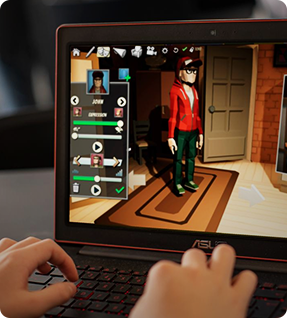 Konfliktløsning level I
2-3 lektioner
Konfliktløsning level 1 er en måde at arbejde med sociale kompetencer og kommunikation i
Drama Studio.
Konfliktløsning level 1 går ud på at eleverne skal skrive videre på en scene hvor skuespillerne
optrapper en konflikt. Elevernes mål er at skrive en troværdig nedtrapning og afvikling af
konflikten og diskutere deres løsninger på klassen.
Forberedelse:
Hvis du ikke allerede er nogenlunde fortrolig med Drama Studio bør du som lærer sætte 1⁄2
time af til at lave de første tutorials i spillet, så du har en grundlæggende forståelse for
hvordan Drama Studio fungerer.
Find eller lav den konflikt-scene du gerne vil have eleverne færdiggør inden første lektion.
Hvis du har tid, så lav selv opgaven inden afvikling.
Alle elever skal have adgang til Drama Studio.

Afvikling (1-2 lektioner):
Eleverne skriver en slutning på scenen.
Refleksion (1 lektion):
Udvalgte elevproduktioner vises på klassens projektor.
Efter hver elevproduktion diskuterer eleverne i grupper (max 15 minutter) om hvilke elementer
i konfliktnedtrapningen der virkede bedst? Hvilke elementer kunne man tage med sig i det
virkelige liv og hvilke ideer har gruppen til at gøre den præsenterede konfliktnedtrapning
endnu bedre?
Grupperne præsenterer på skift hvad de har snakket sig frem til og der åbnes for klassedialog
om spørgsmålene.

Next level:
Eleverne starter med at skrive deres egen konfliktoptrapningsscene, hvorefter de bytter
scener med en anden elev/gruppe og forsøger at nedtrappe og afmontere deres konflikt.